Garrison Cooke
Producer
Email Garrison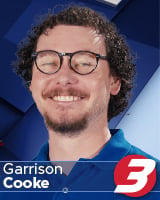 Garrison Cooke is a Wilmington native and is currently a producer at WWAY.
He graduated from East Carolina University with a Bachelor's Degree in Communication Studies
in 2017. While at ECU he worked for the school newspaper, The East Carolinian and interned
with us at WWAY.
After graduating from college, Garrison moved up to Albany, NY to begin his career as a news
producer at the first television station in the country – WRGB.
Garrison moved back home to Wilmington in 2020 and became the 5pm and Good Evening
Wilmington newscast producer at WWAY.
When not at work, Garrison likes to spend time with friends, family and his dog Frodo. Garrison
also enjoys playing golf and being involved in the community.