Hannah Patrick
Evening Anchor
Email Hannah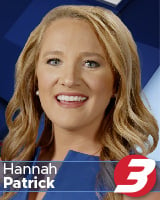 Hannah Patrick joined the WWAY News team in May 2014 as a multimedia journalist. After a
year, she became the weekend anchor and producer. In 2017, Hannah joined Good Morning
Carolina as a morning anchor. In July 2020, she became an evening anchor. Hannah currently
anchors the 5, 5:30, and 7:30 p.m. newscasts and co-anchors the 6 p.m. newscast with Jeff
Rivenbark.
In 2017, Hannah started her #UNSOLVED franchise. She has featured more than 40 unsolved
cases in the Cape Fear to help bring light to these stories and help investigators find answers. In
2019, Hannah's unsolved story on Tim Smart, who went missing in 1995, brought in an
anonymous tip that led to an arrest. A few months later, Smart's body was found. In November
2021, a man pleaded guilty in the case.
Hannah has covered numerous hurricanes and tropical storms over the years from Hurricane
Arthur, Tropical Storm Joaquin and Hurricane Matthew. Most notably, Hurricane Florence had a
big impact on her career. She co-anchored during the 83 and a half hours of nonstop news
coverage while the storm battered the Cape Fear region.
She has also covered multiple elections including the 2016 president election which brought
dozens of major campaigns to the Cape Fear. Hannah also got to cover the Wells Fargo
Championship in Wilmington in 2017.
Hannah has won a number of awards. In 2020, she got the First Place RTDNAC Award for Best
Series on "Unsolved" and the First Place RTDNAC Award for General News by a Multimedia
Journalist. In 2019 and 2018, The Cue Center for Missing Person's gave her the Keeper of the
Flame Award. In 2018, Hannah and Jeff Rivenbark won the AP Award for Best Daytime
Newscast. In 2018, she also received the First Place RTDNAC Award for Best Series on
"Unsolved". In 2018, she received a Commendation Medal from The Brunswick County Sheriff's
Office for work on unsolved cases. In 2015, she received the Second Place RTDNAC Award for
TV News Multimedia Journalist of the Year.
Hannah grew up in Birmingham, Alabama, but moved to Georgia in middle school. She
graduated from the University of Georgia in 2014 with a bachelor's degree in Digital and
Broadcast Journalism. Hannah interned with 11Alive in Atlanta before beginning her news
career at WWAY in 2014.
Over the years, she has been very involved in the community emceeing lots of events. For
several years, Hannah emceed portions of the MDA Toast to Life Gala. She also emceed the
2019 Brunswick Community College Foundation's Bella Italia and the 2019 North Carolina
Azalea Festival Parade. Every summer since 2018, she emcees the All American Beauties
Pageant for people with developmental disabilities. She also does lots of school visits and
participates in Read Across America Day each year by reading to students at area schools.
Hannah is an extremely passionate journalist and loves telling stories, but she has a few other
hobbies outside of news. She has always loved running. She has run a couple of half marathons
including one in Wilmington along with dozens of 5ks and 10ks. She loves the outdoors, so
moving to the beach in 2014 seemed like a dream to her and still does after almost a decade.
She also loves traveling and seeing shows on Broadway. And she will never turn down a crime
series to binge on tv.
You can follow all of Hannah's adventures and stories on social media.
Facebook: https://www.facebook.com/HannahPatrickTV3
Twitter: @Hannahpatricktv
You can contact her with story ideas at hpatrick@wwaytv3.com