Jake Eichstaedt
Sports Anchor/Reporter
Email Jake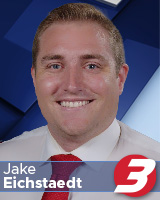 Jake Eichstaedt joined WWAY as a sports anchor in June of 2021.
Jake is a lifelong sports fan who grew up a jock. Playing multiple sports, Jake accrued 9 varsity
letters for one of the most prominent high schools in the Los Angeles area for sports. He went
on to Southern Methodist University and received a degree in journalism when he decided to
move to the other side of the industry of reporting and not playing or coaching.
His professional career began in West Texas, reporting on the sports and news of
Midland/Odessa – the birthplace of the movie and book Friday Night Lights.
Jake serves in roles with the Special Olympics, has done play-by-play for UNCW, and was
selected as the ticket drawer for the first-ever rivalry 50/50 raffle between North Brunswick
and South Brunswick at halftime of the football game.
Outside of reporting and anchoring the Friday night sports shows, he is passionate about being
active in the community and advancing the lives of the athletes he covers.