Matthew Huddleston
Meteorologist/Web Content Producer
Email Matthew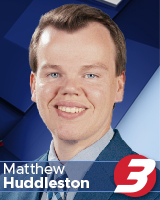 Matthew Huddleston is currently the web content producer and a weekday meteorologist at
WWAY News. He joined WWAY in July 2020 as the weekend meteorologist and reporter.
Before heading to southeastern NC, Matthew attended college at North Carolina State
University in Raleigh, where he received a bachelor's degree in meteorology.
During his time at WWAY, Matthew has used his degree to forecast the complex and fast-
changing weather in the Cape Fear. Aside from his weather duties, Matthew has enjoyed
getting to explore the area while covering hundreds of stories ranging from impactful weather
events to important local news.
In May of 2022, he took over web content duties as well, and works to make sure our
WWAY website and social media stay up to date. You can also catch him during the week as a
meteorologist for WWAY CBS at 7/7:30 p.m Monday through Thursday and WWAY ABC at 5/5:30 p.m. on Friday.
Matthew loves to read in his free time, as well as visit the beach or stare at clouds. He has
family in the Wilmington area, but most of his family lives near Raleigh. Matthew got married in May of 2022. He and his wife Rebecca have a dog named Luna.