Dr. Michael L. Cahn Opens New Vein Treatment and Surgery Practice in Shallotte, NC
Modern, patient-centered facility offers state-of-the-art vein treatments and surgical services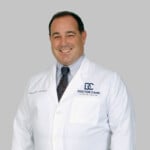 SHALLOTTE, NC — Dr. Michael L. Cahn, a respected vein specialist and general surgeon, announced the opening of his new medical practice at 4503 Main Street, Shallotte, NC 28470. This state-of-the-art facility provides a convenient location for patients seeking innovative, comprehensive, and patient-centered care.
Over the past two decades, Dr. Cahn has treated thousands of patients, earning recognition for his exceptional customer service, as evidenced by his 70+ 5-star Google Reviews and multiple Golden Pineapple Awards. With his new practice in Shallotte, Dr. Cahn continues his commitment to deliver high-quality, patient-centered care.
Dr. Cahn's new facility, which was the former location of Vein Clinics of America, has been fully renovated to provide a modern and comfortable environment for patients. His practice is set to serve patients from southern Brunswick County, northern Horry County and surrounding areas.
Despite moving from the Southport-Oak Island office on Long Beach Rd., Dr. Cahn reassures his patients and the broader community of his continued involvement. He pledges to remain active in the Southport-Oak Island communities through the chamber of commerce, local events, and sponsorship opportunities.
"We are excited to welcome all patients to our new location in Shallotte. Our move aims to provide easier access and improved facilities for our patients while maintaining our strong ties with the Brunswick County community," said Dr. Cahn.
Dr. Cahn and his team are committed to understanding patients' needs and providing life-changing procedures. He emphasized, "As a true partner in health and wellness, I want our patients to know they can trust that my team and I will take the time to get to know them, understand their lifestyle, and provide them with the highest standard of professional care they deserve."
For more information or to schedule an appointment, please visit Doctor Cahn's website or call (910) 363-4949.