Celeste Smith
Reporter
Email Celeste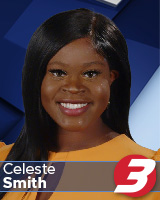 Celeste joined the WWAY News team as a multimedia journalist in February 2021. She is from Charlotte, North Carolina. Celeste studied at the University of North Carolina at Greensboro, where she obtained a Bachelor of Arts in Media Studies in 2018. While at UNCG she interned at Charlotte-Mecklenburg Public Access Corporation, Access 21 TV.
Prior to joining WWAY, Celeste worked in east Mississippi and west Alabama as a reporter at WGBC-TV. While reporting in Mississippi and Alabama, Celeste covered stories on the impact of tornados and tropical storms and contributed video to CBS 48 Hours Season 33 Episode 22 "The suspicious death of Christian Andreacchio".
Celeste has a passion for serving her community, and is a member of Zeta Phi Beta Sorority, Incorporated, and the National Association of Black Journalists.
In her free time, Celeste enjoys spending time with friends and family, and traveling.