Chris Ruffin
Managing Editor
Email Chris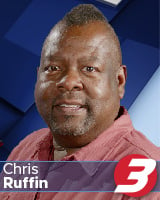 Chris Ruffin joined WWAY in October of 2020. He is currently the Managing Editor for our busy newsroom.  On top of ensuring WWAY is the place to watch for local news, he works closely with the news director, reporters and anchors to shape daily news coverage and make sure everyone is in the right place, at the right time.
Chris, a Bladen County native, isn't a stranger to southeastern North Carolina or the WWAY newsroom. This is his third time being part of the WWAY family. He began his journalism career here in 1997 as a producer. He quickly learned the tricks of the trade, moving up to Senior Producer in 1999 before moving on to a larger market as a producer at WNCN in Raleigh.
His time in the Capital City was short, as a better opportunity awaited, back at WWAY.  He returned to the Port City in late 1999 as Executive Producer, before heading north of the border to Canada (yes, Canada).
During his time in Canada, he left the news business for about a decade, before accepting a position as producer at CP24 in Toronto, a 24-hour news channel. He spent nearly a decade working in the Toronto market before returning to the United States and the Tar Heel State to be closer to family and friends and return to WWAY, where it all began.
When he's not in the newsroom, you can usually find Chris working on cars, playing guitar, fishing or doing various things with or at his rental property. He is also a dual U.S.-Canadian citizen, so hitting the road or hopping on a plane and heading north isn't ever out of the question.