Cedric Harrison named Port City United Director
Cedric Harrison has been named the Director for Port City United, a county department created to help reduce violence and provide connections and resources for individuals and families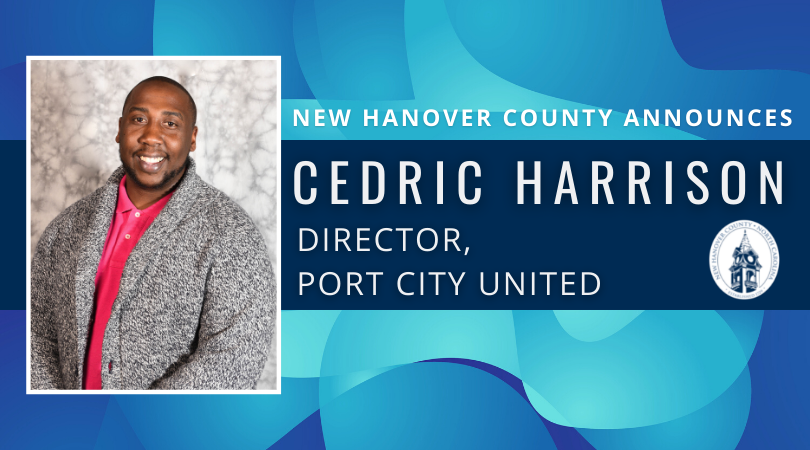 NEW HANOVER COUNTY, NC (WWAY) – Cedric Harrison has been named the Director for Port City United (PCU), a county department created to help reduce violence and provide connections and resources for individuals and families. He will begin in this new role on March 22, 2022.   
"Cedric is a trusted leader and a true community advocate in our city and county," said New Hanover County Assistant County Manager Tufanna Bradley. "He has devoted his life to bringing diverse neighbors together, creating opportunities for the Black community to advance and go after their dreams, mentoring youth, and empowering others to resolve conflicts in nonviolent ways. He is known by many in our community as a faithful friend, and I am confident that his leadership of Port City United will allow us to begin moving forward, building relationships, and making a difference in the lives of our neighbors."   
PCU will continue to be shaped by the community and needs that are identified. It is part of the county's overall community investment plan to help address detrimental situations and provide wrap-around resources for the community that was approved by the Board of Commissioners in January 2022. 
"An extreme lack of resources for those who really need them has been an issue for decades, and up until this point there wasn't any significant funding for the things our community needed," shared Harrison. "But this is a turning point. We have an opportunity now to make an impact, more than ever before. I ask our community to be patient and supportive as we get this department up and running and as we begin working inside our neighborhoods and schools for change."  
Harrison is a New Hanover County native, graduate of New Hanover High School, and has a bachelor's degree from the University of North Carolina at Pembroke.   
He is the founder of Support The Port, whose mission is to advance racial equity by creating community experiences and mobilizing resources to support educational and economic success, community development, and anti-violence initiatives.
More recently, he founded WilmingtoNColor, a shuttle tour that shares the stories of African American achievements and legacy in Wilmington, including the 1898 Coup d'Etat. He has also worked at Cape Fear Community College as an assistant coordinator in the Nixon Minority Male Leaders Program Center, helping to increase the retention and graduation rates of underrepresented populations of students enrolled at CFCC.   
Harrison was a 2020 recipient of the Star News and Wilmington Chamber of Commerce's 40 under 40 award and in 2019, was selected out of over 400 applicants to be part of the inaugural cohort of the Z. Smith Reynolds Foundation's All for NC Fellows.  
The county is currently reviewing nonprofit proposals for the community resource coordination within schools and has hired several leadership positions under Harrison, including Steve Barnett, PCU Supervisor for Violence Interruption and Outreach; Rashad Gattison, PCU Connect Supervisor; Jarett Gattison, PCU Resource Coordination Liaison; and Sharon Braxton, PCU Data Analyst. Recruiting and hiring for additional positions will continue to take place over the coming weeks, and the department is expected to be operational in April 2022.