Classic Charter Schools respond to allegations of 'disrespectful policy' over hair length at Leland school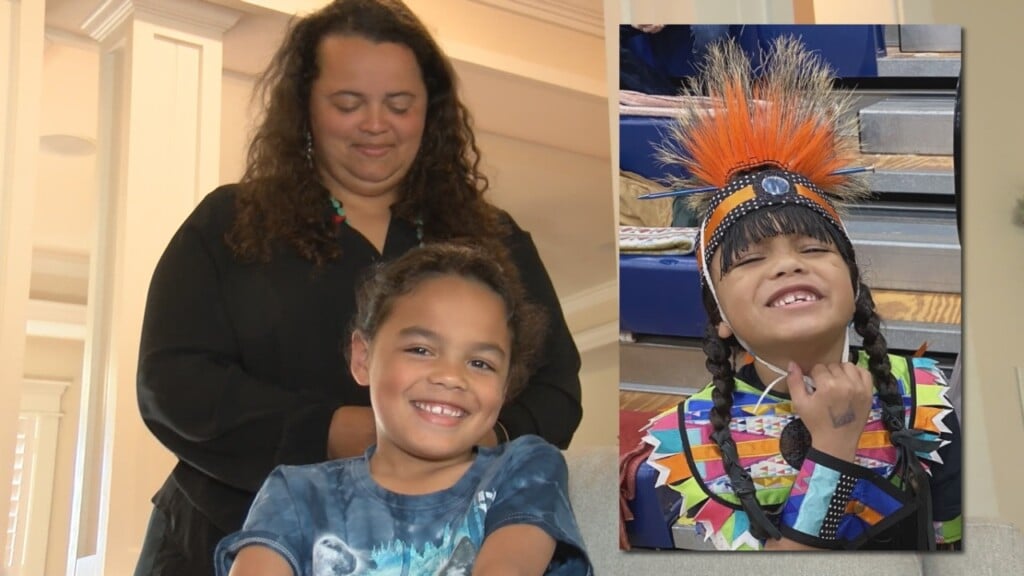 LELAND, NC (WWAY) — Days after WWAY reached out to the Classical Charter School of Leland, the group has finally responded to allegation of their 'disrespectful policy' from a parent regarding her son's hair length.
Ashley Lomboy's son, Logan, is a first grader at Classical Charter School of Leland. For the past 18 months, Lomboy has been putting Logan's long hair in a bun to comply with the school's requirements of keeping hair off the collar and ears.
On February 20th, Lomboy says school officials told her husband that the interpretation of the word "faddish" in the handbook had been changed to include buns, meaning her son's hairstyle was now deemed in violation of the school's grooming standards for boys and his hair had to be cut before he returned from spring break on March 29.
As members of the Waccamaw Siouan tribe, hair is a significant part of their culture.
"[Logan] understands it's what gives him his extra power being an indigenous person," Lomboy said. "He also understands his significance wearing his regalia as he wears headpieces that connect into his hair and you can really see whenever we do that whenever we wear his braids that he understands that is important."
After calling the school and explaining the significance of boys wearing long hair in Native American culture, Lomboy says she was instructed to file a grievance with the school regarding the policy. She filed it and it was denied a little more than a week ago with no explanation.
Classical Charter Schools of America defended its longstanding grooming standards on Wednesday, which they say applies to students at all four of its Southeastern North Carolina charter schools regardless of their race, religion, income, cultural background, or national origins. They say recent allegations attempted "to drive a wedge" between school families and administrators "with trumped-up charges" of discrimination and civil-rights violations.
"The ACLU seems more interested in creating controversy than resolving it," said Baker A. Mitchell, President and CEO of The Roger Bacon Academy, which manages the four CCS-A charter schools.
"Our schools have procedures for dealing with matters such as these. A review is underway and will be considered by the Board on April 27. Instead of respecting the process, the ACLU has jumped in with threats and accusations that drive people apart, rather than bring them together."
CCS says their grooming policy, in existence for many years, is published in the Parent Student Handbook (p. 35), which is given to parents of all students enrolling in a CCS-A school. The policy states:
Boys: Grooming Standards
Hair must be neatly trimmed and off the collar, above the eyebrows, not below the top of the ears or eyebrows, and not an excessive height.
Distracting, extreme, radical, or faddish haircuts, hair styles, and colors are not allowed.
No mustaches or beards. Boys must be clean shaven.
"If an exemption request to the hair standard has been submitted for a student, the student may return [from Spring Break] on March 29 and continue with his hair style until the Board has ruled at its next meeting. The Board will look at each exemption request individually and closely, with appropriate consideration for religious beliefs," Mitchell stressed.
Classical Charter Schools of America (previously known as Charter Day School, Inc.) was founded in 1999 as a single school with 72 students in Leland, NC. CCS-A now has four schools—in Leland, Southport, Whiteville and Wilmington, NC—serving more than 2,500 students. All four schools are classified as Title I schools, serving large numbers of low-income students.