Columbus County Sheriff's Office reports hundreds of violations during Click It or Ticket Campaign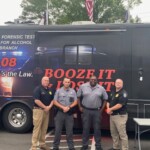 COLUMBUS COUNTY, NC (WWAY) — The Columbus County Sheriff's Office has released their numbers from a recent Click It or Ticket campaign.
The Sheriff's Office conducted saturation patrols focusing on the East End of the county from May 22nd through May 30th.
The goal of this enforcement effort was to ensure all passengers in motor vehicles utilized a seat belt properly and to ensure compliance of the motor vehicle codes.
vehicle codes.
The following is a list of the total violations issued during these saturation patrols:
     8 – Driving While Intoxicated Violations
   44 – Safety Belt Violations
   10 – Uninsured Motorists Violations
     7 – Registration Violations
   10 – Drug Violations
   48 – Speeding Violations
   29 – Driving while License Revoked Violations
     8 – Fugitives Arrested
 120 – Other, Not Listed Traffic Violations