Endowment established at Robeson Community College honors former Columbus County teacher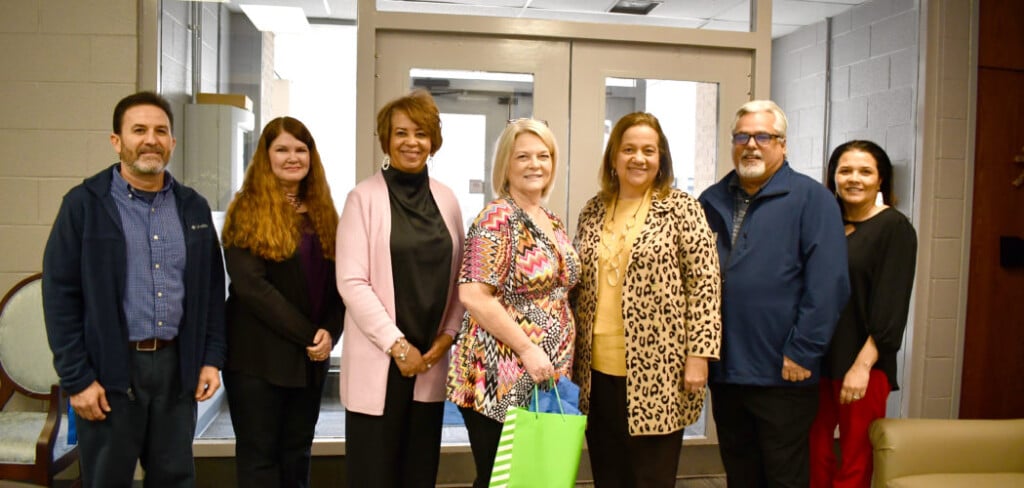 ROBESON COUNTY, NC (WWAY) — An endowment has been established at Robeson Community College in honor of Christopher Walker, an English Instructor who died in 2022 at the age of 35.
In 2018, Walker was recognized as WWAY's "Teacher of the Week" when he taught Language Arts and Social Studies at Acme Delco Middle School in Columbus County.
"To know him, was to love him," said Kim Spivey, Christopher Walker's mom, during a private ceremony to honor her son on Monday, Jan. 30 at Robeson Community College. "If you did know him, I'm sure that he left a positive imprint."
Walker was an English instructor at RCC, working there e for almost two years before his sudden death. Even in a short period of time, his impact was profound.
"He was always leaving people with words of encouragement, no matter who they were or what their walk-in life was," his mother said. "He always saw the glass as half full no matter what."
To honor Walker, Spivey established an endowment in his name through the RCC Foundation, giving $10,750 to support students seeking a better life through education.
"This is an opportunity for Christopher's love for education and desire to make a difference in the lives of young people to continue on," Spivey said. "He saw things through a different lens and was never satisfied with the status quo. He always searched for a deeper meaning and it was always his desire and goal in life to make a difference."
The endowment established will be used towards supporting scholarships for those in financial need who are first-generation college students and who are working a job to support themselves and pay for their education.
"This endowment is a testament to Chris, and I can't think of a better way to honor his memory and legacy," said Lisa Hunt, the assistant vice president of grants and foundation. "He had such an impact on faculty, staff, and students, and we are so thankful to be able to be a part of continuing his legacy and carrying on his memory."
"Chris was a great supporter of the RCC Foundation," Hunt said. "The Friday before he died, he came into our office to pay his money for Blue Jean Fridays – a fundraiser for faculty and staff to raise money for student scholarships and in return, get to wear jeans on Fridays."
Sheryl Gore a family friend, says the endowment is something Chris would have wanted his family to do.
"This endowment means everything," said Gore. "It carries on his legacy. It was important for Chris to be a mentor to students. He gave them the tools to think so they could make decisions."
"My kids and Kim's kids all grew up together, we did trick or treat together, vacations. We were a tight-knit group," Gore stated.
Another connection to Walker was with RCC President Singler.
"Chris and I shared a common thread in our histories. We both worked at Acme Delco Middle School, not at the same time, but we still enjoyed comparing notes. We actually taught the same subjects in the same classroom," Singler said. "The irony is I taught the parents of the students he taught."
When Walker was nominated for WWAY's Teacher of The Week, Singler said, "I feel this exemplifies his passion and love for the art of teaching and his students."
"Chris had a tremendous impact upon his students and RCC," Singler said. "Today, his family, friends, and co-workers gathered together to celebrate his life and his legacy through this endowment, which will go on to help countless students."
"He was a great educator, mentor, and friend," Singler said. "And that's how I will always remember him."
"I do think he is somewhere smiling today, and that he's overjoyed and excited that his family and friends have been supportive of establishing this scholarship in his honor," Spivey said. "A multitude of students will benefit from the legacy he started."
In addition to the endowment, a memorial stone was placed in the rose garden by the front entrance of the campus, which reads, 'In Memory Christopher Walker 'In the sun I feel as one,' RCC English and Humanities.