Friday the 13th's Mega Millions drawing offering $1.35 billion jackpot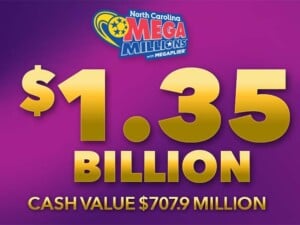 WILMINGTON, NC (WWAY) — North Carolinians hoping to get lucky on Friday the 13th have a shot at the second-largest jackpot in Mega Millions history as the jackpot now stands at $1.35 billion.
Although some consider Friday the 13th to be unlucky, six previous Mega Millions jackpots have been won on a Friday the 13th. The current jackpot is an estimate and could grow on Friday depending on ticket sales.
A North Carolina winner would have the choice of taking home the $1.35 billion jackpot as an annuity or $707.9 million in cash. The $1.35 billion jackpot represents the fourth-largest jackpot in U.S. history.
"Players dream at having a chance to win a jackpot worth over a billion dollars," said Mark Michalko, executive director of the N.C. Education Lottery. "We all have our fingers crossed that someone in North Carolina will get lucky this Friday the 13th and win that incredible prize."
The Mega Millions jackpot has been on a roll with 25 consecutive drawings without a jackpot winner. The last win came in the Oct. 14 drawing when two tickets in Florida and California split a $502 million jackpot. The odds of winning a Mega Millions jackpot are 1 in 302.5 million.