OPERATION GRIDLOCK: Most congested roads in Wilmington area

WILMINGTON, NC (WWAY) — Surely the road you drive each day, where you sit and wait for seemingly endless traffic, must be the most congested in the Wilmington area.
Perhaps. But did you know there is an actual, official list of the area's most congested roads? There is, and we're gonna tell you which are the worst.
The list comes from a biennial report released this year by the Wilmington Urban Area Metropolitan Planning Organization. That's the government group that deals with transportation issues in the Wilmington area. The report weighs four things: Travel time; safety, including crashes; volume; and transit boarding.
Click here to watch WWAY newscasts LIVE ONLINE
Today on Good Morning Carolina, we began counting down the five most congested roads in the Wilmington area.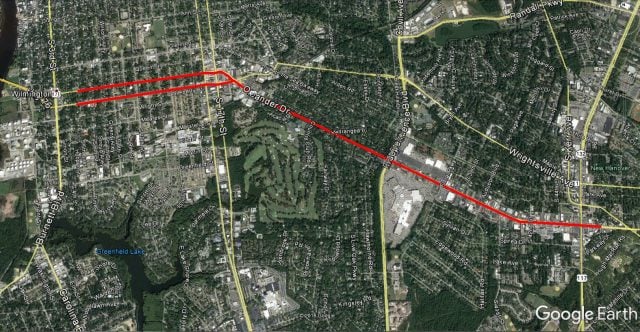 #5: Oleander Drive (including Dawson and Wooster streets) from 5th Ave. to Treadwell Street
According to the report, it takes about 8.5 minutes to travel this 4.7-mile corridor during the morning peak (7-9 a.m.) and evening peak (4:30-6:30 p.m.) During the two years studied, the corridors saw an average of 25,021 vehicles a day. There were 10 rear-end collisions, seven crashes involving bicycles and nine crashes involving pedestrians.
The report lists two hotspots: the intersections at Independence Blvd. and College Road.
The report says an alternate route to avoid this area is Wrightsville Ave. It also suggests encouraging carpools and vanpools, as well as employer shuttles to provide transportation connections for their employees.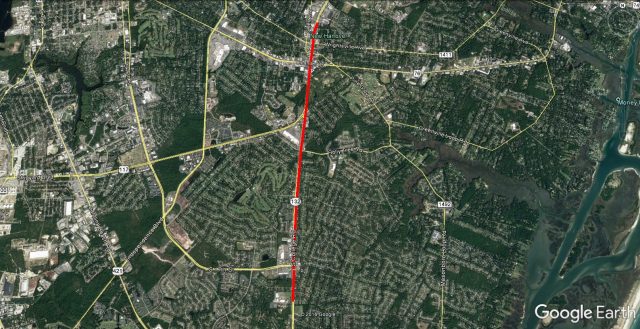 #4: College Road from Wilshire Blvd. to Pinecliff Drive
With an average vehicle volume of 47,535, this stretch of College Road had 251 rear-end collisions between 2014 and 2016. It takes an average of 7:34 to drive this route during the morning peak (7-9 a.m.) and 8:06 during the evening peak (4:45-6:45 p.m.).
The report says there are three hotspots on this 3.4-mile corridor: Oleander Dr., Shipyard Blvd. and 17th St. If you'd like to avoid this area, the report recommends using Independence Blvd.
Among the suggestions the report has for alleviating the congestion on this corridors are expanding the pedestrian and bike network and converting intersection to interchanges.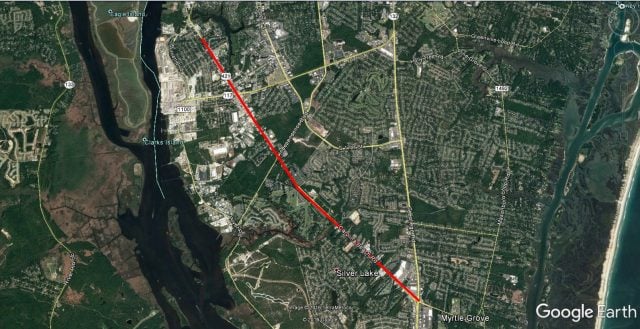 #3: Carolina Beach Road from Alabama Ave. to College Road
On average, 31,783 vehicles travel this stretch of Carolina Beach Road that starts near Legion Stadium and runs to Monkey Junction. With the state part of Wilmington nearby, it's not surprising that 4.35 percent of that traffic is made up of trucks.
During the morning peak (7-9 a.m.), it takes 8:48 to drive the 5.7-mile corridor. When traffic peaks in the evening (4:45-6:45 p.m.) it takes even longer at just under 10 minutes. The hotspots are the intersection at Shipyard Blvd. and morning traffic around Codington Elementary.
Unlike the rest of the five most congested roads, the report lists no alternative route. To make things better, it suggests increasing the frequency of mass transit routes and expanding the pedestrian and bicycle network while also building a supportive network of collector streets within new development in the area. Planners hope to make improvements to roads in the area starting next year.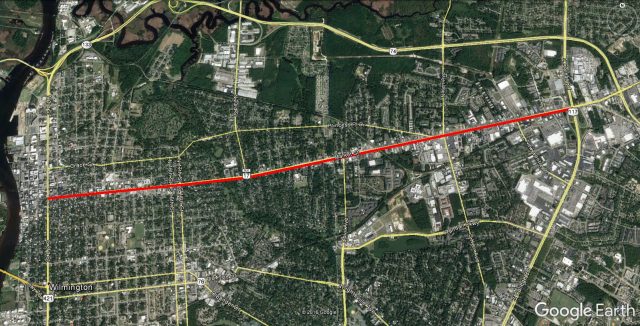 #2: Market Street from 3rd Street to College Road
Imagine how bad the traffic would be on Market Street in Wilmington if not for MLK Parkway, the suggested alternate route, and I-140 north of the city, which helps traffic bypass Wilmington altogether.
Each day an average of 38,837 vehicles travel on this 4.4-mile stretch between 3rd Street in downtown Wilmington and College Road. If you drive in that area, you probably won't be surprised to learn the hotspots are at Kerr Ave. and New Centre Drive.
During the morning rush (7-9 a.m.) the trip averages 8:08. That's a relative Sunday jaunt compared to the 9:24 it takes when traffic peaks in the afternoon (4:30-6:30 p.m.).
Over the two-year period studied, there were 269 rear-end collisions on the corridor, and 20 crashes involving bikes or pedestrians.
The report encourages better managing growth in the area, increasing the frequency of public transit routes and changing the physical layout of some intersections. Several projects are already underway to help, including widening Kerr from Randall Parkway to MLK, where the intersection will be changed to an interchange.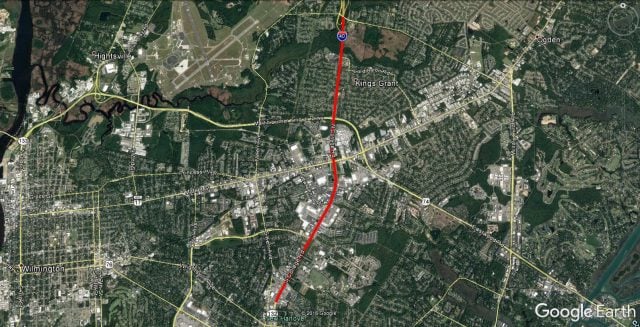 #1: College Road from Gordon Road to Wilshire Blvd.
If you've never gotten stuck in traffic on College Road, then you've probably never driven on College Road.
Each day an average of 52,822 vehicles travel College between Gordon Road and Wilshire Blvd. And perhaps not surprisingly, between 2014 and 2016, all the gridlock led to 462 rear-end collisions.
Between 7 and 9 a.m., the average drive on the corridor takes 6:44. Buy the 4.3-mile route takes 7:56 when traffic peaks in the afternoon (4:45-6:45 p.m.). That evening commute translates to an average delay of more than three minutes.
This corridor includes passes UNCW. That's perhaps one reason why the report suggests not only expanding the pedestrian and bicycle network in the area, but also implementing a bike share program.
The experts say there are a couple of routes to help you avoid the congestion on College. Try Kerr Ave., or a little farther away, you can use Independence Blvd.
Where is the worst traffic you see? What tips, tricks and shortcuts do you use? Is there a bottleneck you wish you knew a shortcut to get around? We wanna know! Send us an e-mail to gridlock@wwaytv3.com, and we'll look into it.
If the road that drives you crazy isn't in that list, it might be close. Pick up the StarNews Sunday and see the 15 most congested roads in the region.
It's all part of OPERATION GRIDLOCK driven by WWAY and the StarNews.