Pender students get hands on training in school shooting scenario
PENDER COUNTY, NC (WWAY) — Students at Pender Early College High School were asked one important question from emergency responders.
"If an active shooter were to come into the room, do you think you could get out of the room and survive?"
According to a news release, Pender EMS Training Chief David Dudding, Pender County Sheriff's Office Capt. James Rowell and Sgt. Eric Wallen participated in ALICE training with students on Friday.
ALICE, which stands for Alert, Lockdown, Inform, Counter, Evacuate, is a training program that equips people with skills to increase their chances of survival during an active shooter situation.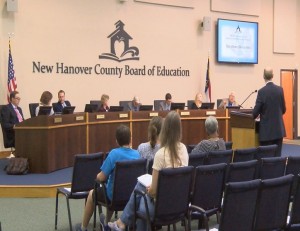 "ALICE training allows students and staff to experience realistic training scenarios and gives them the opportunity to practice ALICE concepts in a safe, controlled environment," Capt. Rowell said. "They come in with an expectation of what the training will be and leave the course with the realization that they can decide what options increase their personal safety in any given situation."
Capt. Rowell, Dudding and Wallen played the role of "active shooters."
Students and staff learned about and practiced several responses to the simulated attack, including working together to barricade the classroom entrance with tables and chairs,  throwing foam balls at the active shooter to disorient him, swarming the shooter and grabbing hold of his arms and legs, disarming and immobilizing him, and evacuating the building safely.
It's training that school administrators appreciate.
"It was a wonderful and powerful experience. While we are in the business of educating young men and women for the world that awaits them, we also understand that our parents trust us every day with their most precious possession — their child. ALICE is another tool we can use to make our school safer," Pender Early College Principal Kevin Taylor said.
"Instead of being scared about what could happen, we now feel empowered and prepared," said Karli Mikula, PECHS teacher.
Pender County Schools is piloting ALICE at Pender Early College High School.
In a review of school safety procedures, the district's Safety Committee, comprised of representatives from the school system, local law enforcement, Pender County Fire Marshall, Pender EMS and Fire, and Coastal Horizons, is identifying areas where the district can increase safety at all schools.
The Safety Committee is conducting safety walkthroughs at each school campus and has also completed active shooter training with school staff.