UNCW baseball players receive CAA Championship rings

WILMINGTON, NC (WWAY) — The players on the UNCW baseball team received their 2015 CAA Championship rings on Thursday night at halftime of the UNCW-Delaware basketball game.  How will the 2016 UNCW team do? We're not sure yet, but we posted  a synopsis of future Seahawks below.
—————-
WILMINGTON, NC  (UNCW) —  UNCW head baseball coach Mark Scalf has announced the addition of 12 players for the 2016-17 season.
"Coach (Randy) Hood, (Matt) Williams and (Robbie) Monday again have done a tremendous job identifying players who fit our program's mindset and ability," said Scalf. "Athleticism and the will to compete are evident in each of these young men and we're excited to see their impact on the program when they join us for the 2016-17 season."
Logan Beehler (Charlotte, N.C./Pitt CC) began his collegiate career as a red-shirt his freshman season at NC State before transferring to Pitt CC in the fall of 2015. Beehler played at Ardrey Kell High School where he was named All-Conference in 2012 and 2013. He was ranked as the sixth-best righthanded pitcher in the state by Perfect Game.
Scalf on Beehler: "Logan seems very mature and poised on the mound. He complements a low-90's fastball with a solid breaking ball and change-up. He should factor in the starter's role mix."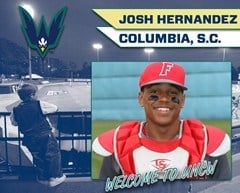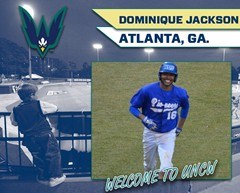 Jordan Bissette (Fuquay-Varina, N.C./Pitt CC) also began his career at NC State before moving on to Pitt CC this fall. Bissette red-shirted last season for the Wolf Pack after playing at Fuquay-Varina High School. While with the Bengals, he was an all-state selection, making nine starts and striking out 47 in 47 innings of work. As a junior he posted an 8-1 record in 2013. In 2014, he was named honorable mention All-Atlantic Region by Perfect Game and helped the Bengals to the State 4A finals. Bissette pitched for the Holy Spring Salamanders last summer in the Coastal Plain League.
Scalf on Bissette: "Jordan has a live arm and a definite out-pitch with his slider. His low-90's fastball has good life to it. As he continues to develop physically, we think he'll throw harder and be a quality arm in our program."
Luke Gesell (High Point, N.C./High Point Christian) is very familiar with the program as his older brother Jared enters his senior season with the team. As a junior, Luke earned All-PACIS and All-State honors and was the conference's Player-of-the-Year. He posted a 7-1 record and a 1.45 ERA while striking out 49 in 38 innings or work. At the plate, he hit .420, scored 29 runs and hit a pair of home runs. Luke played for Post 87 last summer.
Scalf on Gesell: "Luke is very physical and has an athletic body (6.7 60-yard runner). He already has a low-90's fastball. In the field, he has played multiple infield positions and shown the ability to drive the baseball into the gaps along with plus-power. We're excited to add another of the Gesell family to the program."
Josh Hernandez (Columbia, S.C./AC Flora) is a catcher and hails from Columbia, S.C. Hernandez hit .390 with five home runs and was named Region MVP for AC Flora High School. He led the Falcons in eight offensive categories.  Hernandez played travel baseball last summer for the Evoshield Canes.
Scalf on Hernandez: "Josh has the potential to be one of the best defensive catchers we've had in our program. We feel his skill set is already very advanced. With the bat, he has also shown the ability to be a line drive/gap hitter with occasional pop. We're excited about his future."
Dominique Jackson and Kevon Perkins come to UNCW from Spartanburg Methodist, following in the footsteps of former Pioneer standouts Jake Koenig, Zach Shields and Kennard McDowell.
Jackson, who hails from Atlanta, Ga., hit .328 with 43 runs scored in 51 games at SMC. He added six home runs, drove in 32 runs and stole a team-high 26 bases. Jackson is ranked the 23rd nationally on Prefect Game's top JUCO pro prospects.
Scalf on Jackson: "Dominique is an extremely athletic player with 6.4-6.5 speed and is a very good defensive player. He's already proven that he's a player that will swing the bat and make things happen at the junior college level. He's one of the top hitters at the JUCO level and is ranked 22nd nationally by Perfect Game."
Perkins is a local product from Leland, N.C., and hit .274 his freshman season for the Pioneers. He scored 14 runs, had four doubles and swiped six bases in seven attempts.
Scalf on Perkins: "Kevon is an elite runner with 6.2-6.3 60-yard speed. He's another great defensive player in the outfield. As he continues to work and develop as a hitter, he has a chance to be an electric player."
Chris Joyner (Cary, N.C./Green Hope) posted a 2.33 ERA and struck out 41 batters during his junior season at Green Hope. Joyner tossed a five-inning no-hitter and struck out eight against Broughton. Chris played with Team Evoshield during travel baseball last summer.
Scalf on Joyner: "Chris has an upper 80's fastball and throws from a 3/4 arm slot. He's an athlete on the mound and will continue to get better as he gets stronger and more polished. Chris is a bulldog on the mound and that's something we like in our recruits."
Austin LaFollette (Fayetteville, N.C./Terry Sanford) hit .356 and scored 28 runs while stealing 17 bases and knocking in 22 runs for Terry Sanford. Those numbers helped him earn All-Cape Fear Valley honors. Last summer, Austin played with Evoshield Canes Central.
Scalf on LaFollette: "We feel Austin has a chance to be a very good hitter from the leftside and is another athletic player with plus-speed (6.8 60-yard). We look forward to seeing him develop as an infielder and hitter."
Michael Tyndall (Morehead City, N.C./West Carteret) is a lefthanded pitcher from just up the coast in Morehead City, N.C. As a junior, he posted a 6-2 record and struck out 68 in 38.1 innings and was named All-North Carolina Coastal Conference. Michael pitched for Coach Robby Lasater and Post 46 last summer.
Scalf on Tyndall: "Michael is a smart, intelligent pitcher that we feel has a lot of upside. His fastball is in the mid-80's and complements his breaking ball and changeup. With hard work and dedication, he can make great strides and that excites us."
Cole Weiss (Clemmons, N.C./Mount Tabor) plays in the Central Piedmont Conference, which has produced a number of players that signed with the Seahawks over the years. As a junior, Weiss hit .485 overall and .520 in the CPC. He was named All-CPC and served as team captain. Weiss was a member of the Post 55 Legion team and Carolina Rockies All-Black Showcase team.
Scalf on Weiss: "Cole is a guy we feel possesses great defensive actions and ability in the middle of the diamond. He's another athletic player, hits from the leftside and has a good line-drive approach. He knows how to play the game and plays it the right way. Cole has a great frame and we can't wait to see his progress in the weight room."
Kevin Westlake (Greensboro, N.C./Page) was the Metro 4A Conference Player-of-the-Year as a pitcher for Page High School. He pitched for the NCBA Golden Spikes during travel baseball season.
Scalf on Westlake: "Kevin really competes and we think his upside is very good. His mid-80's fastball is backed up by a strong slider and he throws with loose arm action from a 3/4 slot. We feel he'll make quick strides and have the ability to fill a starter's role in the future."
Riley Zayicek (Mooresville, N.C./Lake Norman) rounds out the incoming fall class. Zayicek hit .405, belted seven home runs and knocked in 29 runs for Lake Norman as a junior. He was an All-Conference and County selection last spring and played for the Dirtbag All-Blacks last summer.
Scalf on Zayicek: "Riley is another strong/physical player with a plus-bat tool from the leftside. We think he'll develop into a middle of the order type hitter. He's athletic and brings a ton of energy to the field. We're eager to work with him."
---
2016-17 UNCW SIGNEES
| | | | | |
| --- | --- | --- | --- | --- |
| Name | Pos. | Ht./Wt. | B/T | Hometown/High School (Previous School) |
| Logan Beehler | RHP | 6-1/195 | R/R | Charlotte, N.C./Ardrey Kell (Pitt CC) |
| Jordan Bissette | RHP | 6-5/185 | R/R | Fuquay-Varina, N.C./Fuquay-Varina (Pitt CC) |
| Luke Gesell | RHP/IF | 6-4/200 | R/R | High Point, N.C./High Point Christian |
| Josh Hernandez | C | 5-11/190 | R/R | Columbia, S.C./AC Flora |
| Dominique Jackson | OF | 6-2/180 | R/R | Atlanta, Ga./South Gwinett (Spartanburg Methodist) |
| Chris Joyner | LHP | 6-2/180 | L/L | Cary, N.C./Green Hope |
| Austin LaFollette | INF | 5-11/165 | L/R | Fayetteville, N.C./Terry Sanford |
| Kevon Perkins | OF | 5-10/165 | R/L | Leland, N.C./North Brunswick (Spartanburg Methodist) |
| Michael Tyndall | LHP | 6-2/210 | L/L | Morehead City, N.C./West Carteret |
| Cole Weiss | IF | 6-3/185 | L/R | Clemmons, N.C./Mount Tabor |
| Kevin Westlake | LHP | 6-2/170 | R/L | Greensboro, N.C./Page |
| Riley Zayicek | OF | 6-1/215 | L/R | Mooresville, N.C./Lake Norman |