Seahawks annnounce Men's Hoops schedule

WILMINGTON, North Carolina (UNCWSports.com) – Dates with college hoops powers North Carolina and Stanford and an appearance in the inaugural Battle in the Blue Ridge highlight the 2018-19 men's basketball schedule for the UNCW Seahawks.
The Seahawks will face five first-time opponents during the course of the 31-game schedule, including the Cardinal of the Pacific-12 Conference. Eight teams on the new schedule advanced to postseason play one year ago and five earned berths to the NCAA Tournament.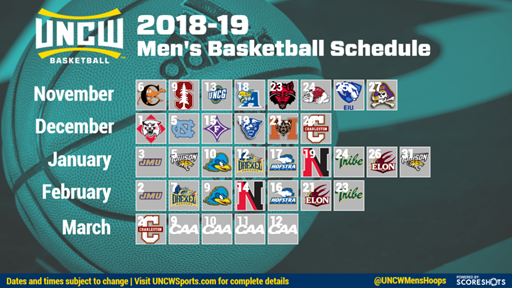 "We've put together another challenging schedule," said second-year UNCW Head Coach C.B. McGrath. "Our home non-conference slate is something we're proud of as a program and worked hard to accomplish.
"Bringing a Power 5 team like Stanford to Trask Coliseum, along with great state opponents like Davidson, East Carolina and UNC Greensboro, is something we feel Seahawk fans will enjoy and deserve.
"We need to make sure Trask is full and rocking for our home games. Our non-conference schedule will prepare us well for the conference season and give us a barometer of where we stand."
Following a home exhibition game with William Peace on Friday, Nov. 2, the Seahawks kick off the regular season at Campbell in Buies Creek, N.C., on Tuesday, Nov. 6. The longtime foes will meet for the 104th time, the longest series on record for the Seahawks.
UNCW then opens a three-game home stand in early November with Stanford, which advanced to the second round of the National Invitation Tournament one year ago. It will be the first visit by a Power 5 Conference opponent to Trask Coliseum since Wake Forest claimed an 80-69 verdict in Wilmington on Dec. 16, 2009. The trio of home games also features UNC Greensboro (Nov. 13) and NAIA member Allen University (Nov. 18).
The Seahawks then scoot across the state for three games in the visitcurrituckOBX.com Battle in the Blue Ridge exempt tournament at the U.S. Cellular Center in Asheville. UNCW will face Arkansas State, Gardner-Webb and Eastern Illinois in the Thanksgiving holiday tourney on Nov. 23-25. The earlier game with Allen in Wilmington is part of the exempt event.
McGrath's club returns to the Port City after the holiday for a pair of home tilts against state rivals East Carolina and Davidson. UNCW battles ECU on Tuesday, Nov. 27, in the renewal of one of North Carolina's best rivalries and Atlantic-10 contender Davidson pays a visit on Saturday, Dec. 1.
The Seahawks then embark on a four-game road swing before the Christmas break to North Carolina, Furman, Georgia State and Mercer. UNCW and UNC meet on Wednesday, Dec. 5, at the Smith Center in McGrath's first game against his former team. McGrath played for Hall of Fame Coach Roy Williams at Kansas and was on UNC's staff from 2003-17.
"It will be a great experience to take the team up to play UNC in the Smith Center," McGrath added. "I spent 14 years there helping Coach Williams and have some great memories of my time in Chapel Hill."
UNCW returns a game at Furman on Dec. 15 and wraps up the non-conference slate with a two-game swing to Georgia State (Dec. 19) and Mercer (Dec. 21). GSU's Panthers were members of the CAA from 2005-2013.
With the non-conference slate in the books, the Seahawks begin Colonial Athletic Association action with a bang, entertaining defending CAA champion Charleston on Saturday, Dec. 29.  It will be the first of 18 games in a new "travel partner" format for the league's 10 schools.
SCHEDULE NOTES: Opponents competed in the NCAA, NIT and CBI Tournaments last season…UNCW has a four-game CAA home string in late January…The Seahawks have a stretch of six road games in seven games in late December-early January…UNCW has eight games in November, six in December, nine in January, seven in February and one in March…All four opponents in the visitcurrituckOBX.com Battle in the Blue Ridge event will be new foes…The Seahawks play just three home conference games in February…UNCW has 14 home games, 14 away contests and three neutral site matchups.