Seahawks hold off the Pirates in front of sellout crowd at Trask

WIILMINGTON, NC (AP) — Denzel Ingram made six 3-pointers and scored 26 points, C.J. Bryce had 25 points and eight rebounds, and UNC Wilmington won its eighth straight in an 81-71 victory over East Carolina on Tuesday night.
Deng Riak threw down a dunk to pull ECU within nine points with 6:11 left but Ingram answered with a 3-pointer for a 75-63 lead and the Seahawks led by double figures the rest of the way.
UNC Wilmington (11-1), which entered averaging 95.3 points during its winning streak, has high expectations this season following an NCAA Tournament appearance.
UNCW used a 13-0 run, as ECU went scoreless for two-plus minutes, to take a 25-10 lead. The Seahawks led by 10 points at halftime behind 11 points apiece from Ingram and Bryce. ECU was just 7 of 29 from the floor (24 percent) in the first half.
B.J. Tyson scored 17 points for East Carolina (7-5), which was coming off a 35-point showing against the College of Charleston.
It was the 64th meeting in the regional rivalry and the 50th sellout (5,200) in Trask Coliseum history.
(Copyright 2016 The Associated Press. All rights reserved. This material may not be published, broadcast, rewritten or redistributed.)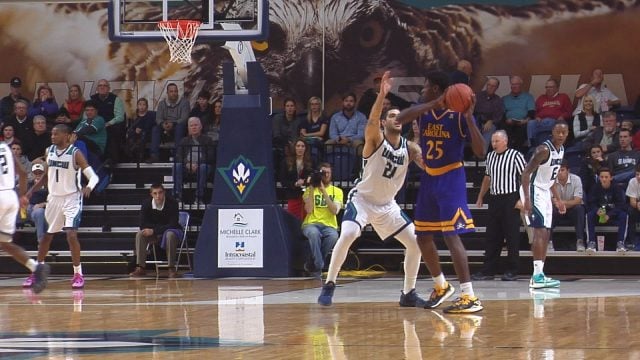 WILMINGTON, NC (UNCWSPORTS.COM) —- The lightning-quick backcourt of Denzel Ingram and C.J. Bryce combined for 51 points to ignite UNCW to its eight consecutive victory, 81-71, over East Carolina in a holiday matchup of eastern North Carolina rivals on Tuesday night before a full house at Trask Coliseum.
The Seahawks led wire-to-wire to hike their record to 11-1 overall and remained unbeaten at home this season in five outings. The Pirates, who lost for the third time in their last four games to the Seahawks, dropped their third in a row and stand 7-5.
"We wanted to control the tempo," said third-year UNCW Head Coach Kevin Keatts, who is now a perfect 12-0 at home against non-conference opponents. "We made those guys play our tempo. I couldn't be more proud of my group. We got a lot of contributions from a lot of people and were able to show off our depth.
Ingram, a senior guard from Chapel Hill, N.C., led all scorers with 26 points on 10-of-17 shooting and added three assists. Bryce, a sophomore guard from Charlotte, N.C., contributed 25 points, while senior guard Chris Flemmings chipped in 12 points and a game-high nine rebounds.
Keatts said, "Denzel is the type of point guard you want. If we need him to run the team and get five to 10 assists, he'll do it. If we need him to hit the big shot at the end, he'll do it. Tonight, we needed him to be offensive-minded and we took advantage of the switches they had."
Junior guard B.J. Tyson paced four ECU players in double figures with 17 points. Senior forward Caleb White, freshman guard Jeremy Sheppard and freshman guard Elijah Hughes had 12 points apiece for ECU, which shot just 24.1 percent in falling behind early in the contest.
The game marked the 10th time the Seahawks and Pirates have played before a sellout crowd in Wilmington and the Seahawks have won all 10 of those games with their rivals.
The Seahawks carved out a 35-25 halftime advantage and led by as many as 17 points in the second half before putting away the American Athletic Conference opponent.
UNCW converted seven of its first 10 field goals in the first five minutes of the second half and the lead ballooned to 16 points quickly before the Pirates made several late runs. Reserve guard JaQuel Richmond raced through traffic for a layup at 14:16 to pad UNCW's lead to 54-38 as UNCW appeared on the verge of a blowout.
But ECU narrowed the deficit to nine points on two occasions and were still within striking distance when Deng Riak scored on a dunk with just over six minutes left to slice the margin to 72-63.
The bouncy Ingram then took over, scoring seven unanswered points over the next two minutes, extending the margin back to 16 points as the Seahawks went on to close out their sixth double digit win of the campaign.
UNCW scored the first five points of the contest and capitalized on ECU's slow start for a quick 7-4 advantage at the first media timeout. Sophomore forward Devontae Cacok slammed home his 36th dunk of the season with just under 17 minutes left in the opening period, but was forced to the bench with his second personal foul at 16:03.
The Pirates stayed cold in the early going, hitting just three of their first 15 field goal attempts while the Seahawks heated up. After Tyson's jumper on the left baseline sliced the early lead to 12-10 with 11:22 on the clock, Bryce scored seven consecutive points to kick off a 13-0 run that helped the Seahawks break away early.
Ingram's triple from the right wing with 8:33 left in the first half staked UNCW to its biggest lead of the opening half, 25-10, before the Pirates regrouped.
Bryce was the catalyst in the first 20 minutes, scoring 11 points as the Seahawks took command and built a 10-point halftime cushion with Cacok on the bench.
The Seahawks take a brief break for the Christmas holiday before resuming play on Dec. 28 when they travel to Clemson's Littlejohn Coliseum to battle the Tigers and former UNCW skipper Brad Brownell.
ECU opens a three-game homestand on Thursday with a 7 p.m. contest vs. Presbyterian.
GAME NOTES: The Seahawks now lead the all-time series, 36-28, including a 22-7 advantage in Wilmington…UNCW had less than 10 turnovers for the fourth straight game and sixth time this season…The teams each scored 46 points after intermission…Kevin Keatts is now 24-12 against non-conference competition in his three seasons…Sophomore forward Devontae Cacok sat out the final 16:03 of the first half with two personal fouls…Kevin Keatts stands 27-4 in home games in his three years…ECU's bench scored 32 points…The Seahawks rebounded from 38.2 percent shooting in the first half to 51.5 percent after the break…UNCW had five more three-pointers than ECU…The Seahawks wrapped up their non-conference home schedule.