Young giraffe at New York zoo dies after neck gets caught in gate support structure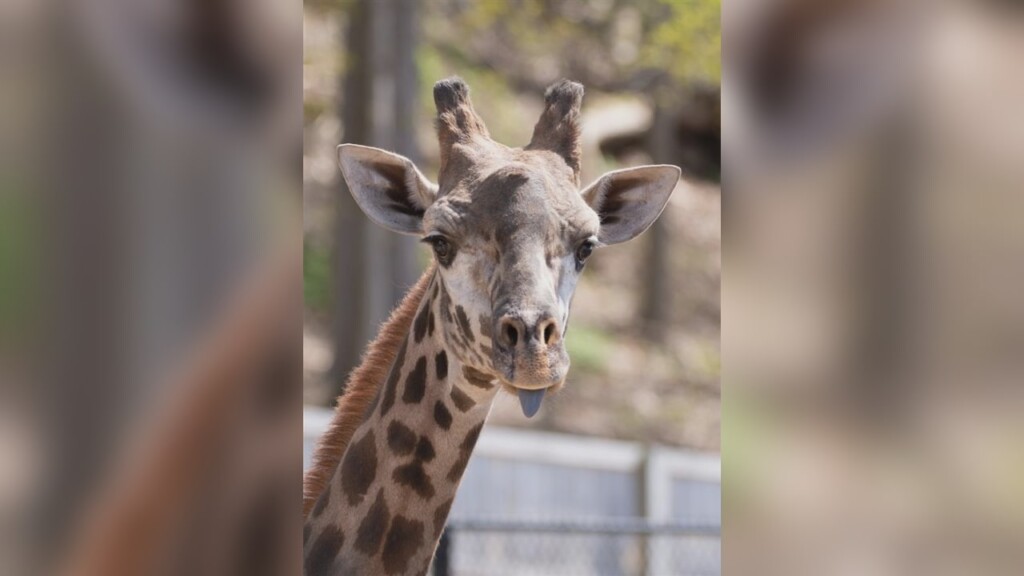 (CBS NEWS) — A young giraffe at Seneca Park Zoo in Rochester, New York, has died after an "unforeseen and unprecedented" incident. Zoo officials said on Monday that the 6-year-old animal named Parker was found with his neck stuck in a support structure for its enclosure gate.
The zoo said that Parker, a member of the endangered Masai giraffe species, was found on Sunday "unresponsive, caught in a support structure for the giraffe enclosure gate." Veterinary staff were immediately summoned, the zoo said, but to no avail.
Parker, born at the Santa Barbara Zoo in August 2016, was introduced to the zoo in 2018 and was "known for his curiosity and playfulness," the zoo said in a statement. He had two female companions – Kipenzi and Iggy – and was the father to a giraffe named Olmsted that is less than a year old. Those three are now the only remaining Masai giraffes at the zoo.
Masai giraffes, natively located in Tanzania and southern Kenya, are listed as endangered on the International Union for Conservation of Nature (IUCN) Red List. The group says that there are only 35,000 mature individuals remaining in the world and that their population continues to decrease, primarily due to illegal hunting and land-use change.
"Masai Giraffes are poached for meat and products such as hide, bones and tail hairs," the IUCN says, adding that the animals' bone marrow and brains are considered "desirable items" to some areas because of the false notion that those body parts can cure HIV/AIDS.
Seneca Park Zoo Veterinarian Chris McKinney said that Parker "will be sorely missed by all."
"He had been in excellent health prior to this and was a joy to both staff and visitors," he said. "Our priority is the health and wellbeing of our animals and any major event can certainly affect them. So far, all three giraffes, Iggy, Kipenzie, and Olmsted, are doing well. We will continue to monitor them in the coming days."
Zoo superintendent Steve Lacy said that the "possibility of this kind of event happening was unforeseen and unprecedented."
"The gate structure, installed in 2018, is a standard giraffe enclosure feature and is used in a number of accredited zoos around the country," he said, with the zoo adding in a press release that there have been "no reports" of incidents such as this at other zoos with similar structures. The Department of Agriculture and Association of Zoos and Aquariums have also been notified.
Officials notified the manufacturer of the gate about the potential hazard, the press release said, and the zoo is "taking steps to modify the enclosure gate structure to prevent any possibility of a reoccurrence."
The zoo has set up a fundraiser in Parker's memory, saying that 100% of the money raised will go to the "continued efforts of our partners at the Giraffe Conservation Foundation," a group that says its a "science-based conservation organization that provides innovative approaches to save giraffe in the wild."
The fundraiser surpassed its goal of $1,000 in two days.