911 call reveals stabbing victim's desperate cry for help in double murder

BRUNSWICK COUNTY, NC (WWAY) — Two people were killed and another injured at a home on Ivey Stone Court in the Shallotte area early Wednesday morning.
The Brunswick County Sheriff's Office says just before 4:45 a.m. they were dispatched to the home in reference to a possible stabbing involving multiple people.
While deputies were on their way to the call, they encountered what they believed to be the suspect's vehicle based on the information provided by the caller.
At 4:45 a.m., deputies were in pursuit of the vehicle reaching speeds up to 105 miles per hour.
The sheriff's office says due to the nature of the incident and potential harm to the public, a deputy performed a PIT maneuver which resulted in the suspect crashing in a wooded area off of Ocean Isle Beach Road.
The suspect ran from the vehicle and after a short foot chase, the suspect was taken into custody at approximately 5:00 a.m.
The suspect, Torrence O'Neal Helms, 30, of Calabash was transported to New Hanover Regional Medical Center.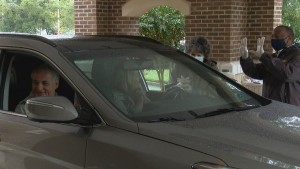 At the home on Ivey Stone Court, a woman was found dead. One man was transported to Brunswick Novant Hospital where he died a short time later.
A third victim, a female, was transported to New Hanover Regional Medical Center and is being treated for her injuries.
That third victim made a 911 call to dispatch. In an emotional call, the woman told the dispatcher what happened and named the suspect, Torrence Helms. She also gave a description of the suspect's vehicle.
Dispatch: "What's going on?"
Caller: "Me and my family were just stabbed. I woke up and he was stabbing my parents."
Dispatch: "Where were you stabbed at?"
Caller: "Everywhere."
Investigators have not released the names of the victims yet.
Neighbors woke up to a crime scene, but they didn't realize that's what it was at first.
"We live in a retirement neighborhood, so when you see ambulance lights and stuff like that, it's normal," Birtton Pridgen said. "So I didn't think anything about it. Then my children came up to me and said, 'There are police at the door.' I knew something was wrong then."
Pridgen and others say they are just shocked.
"They are very quiet people," Pridgen said. "Very nice. Very good people. They stay to themselves like everybody else does here. So the news I'm hearing now is heartbreaking. It's heartbreaking. Especially in this community."
Helms is charged with two counts first degree murder, attempted murder, robbery with dangerous weapon, flee/elude arrest with motor vehicle, and resisting public officer.
Helms is currently in the Brunswick County Jail.
Helms was a wanted man. The Department of Public Safety lists him as an absconder, which means he has failed to report for probation.
He was just convicted in October on several breaking and entering charges, including at the Calabash Seafood Hut, and sentenced to community service and probation.
He was also convicted of breaking and entering in 2014.