Details: 42nd Annual NC Oyster Festival returns Oct. 20-22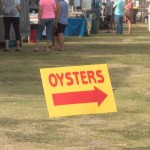 OCEAN ISLE BEACH, NC (WWAY) — The schedule of events has been released for the 42nd Annual NC Oyster Festival in Ocean Isle Beach.
It will take place at the OIB Town Center Park, 11 E. 2nd Street, Ocean Isle Beach, NC on Saturday, October 21 and Sunday, October 22, 2023.
Schedule
On Friday night October 20, 2023, from 5pm – 8pm,the festival Community Night Kick-off event will include a flag raising, unveiling of this year's commemorative t-shirt and commemorative print both designed by artisan Keith White, comments from town officials and festival facilitators, and a free concert featuring Band of Oz.
Saturday's entertainment lineup includes Ryan Perry, Terry Douglas, Gary Lowder and Smokin' Hot and at 11:30am the Oyster Shucking Contest followed by the Oyster Eating Contest at 3pm.
On Sunday, the lineup includes Chocolate Chip & Company and Too Much Sylvia as well as an Oyster Stew Contest at 1pm.
Details
To participate in one of the contests, you must go to the NC Oyster Festival website to sign up.
A FREE shuttle service will run non-stop during festival hours, with free parking and pick-up at the following locations; Lowes Foods (7278 Beach Dr.) and Odell E Willamson Municipal Airport (6080 Beach Dr.).
Limited handicapped parking is available at 2 W. 3rd Street and the NC Oyster Festival is navigable for wheelchairs.
There is a $5 cash admission per adult for entry to the festival, children under 12 are free.
For more information visit www.ncoysterfestival.com.