Harvey Weinstein sentenced to 16 years for rape conviction in LA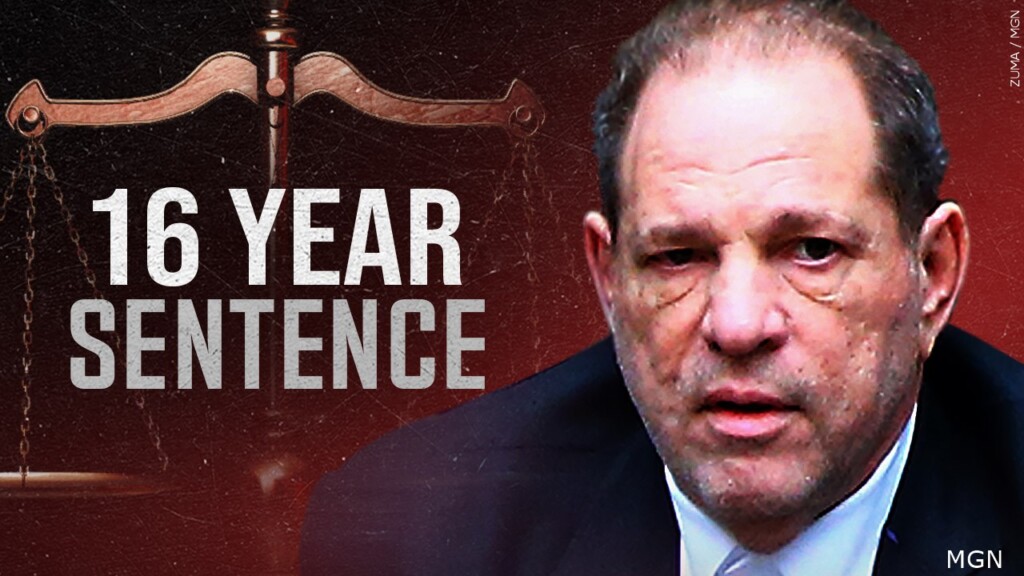 (ABC NEWS) — Disgraced Hollywood producer Harvey Weinstein was sentenced Thursday to 16 years in prison for rape in his Los Angeles sexual assault trial.
The sentence will be served consecutively after a 23-year prison sentence he is currently serving in New York for criminal sexual assault and third-degree rape.
The judge denied Weinstein a new trial during Thursday's hearing, following a motion from his defense that argued his conviction was based on the improper exclusion of evidence and flawed jury instructions.
A Los Angeles jury found Weinstein guilty of three of seven counts, including one count of rape of a woman identified as Jane Doe 1, late last year. Weinstein faces up to 18 years in prison.
Weinstein was accused by four women of assaulting them in hotels between 2004 and 2013 in Los Angeles. He faced two counts of rape and five counts of sexual assault.
The 70-year-old former movie executive pleaded not guilty and has said all of the encounters were consensual.
Following his conviction for rape, Jane Doe 1 said in a statement, in part, "Harvey Weinstein forever destroyed a part of me that night in 2013 and I will never get that back. The criminal trial was brutal and Weinstein's lawyers put me through hell on the witness stand, but I knew I had to see this through to the end, and I did."
"I hope Weinstein never sees the outside of a prison cell during his lifetime," she added.
The four women all testified during the trial, including Jennifer Siebel Newsom, the wife of California Gov. Gavin Newsom. Siebel Newsom was referred to as Jane Doe 4 during the trial, but she has been publicly identified by her lawyer.
Weinstein's lawyer, Mark Werksman, said in opening arguments during his LA trial that each allegation was a "weak and unsubstantiated trickle that will evaporate upon your close scrutiny."
In his closing argument, Deputy District Attorney Paul Thompson said the witnesses testified "credibly," even under intense cross-examination.
In their motion requesting a new trial, Weinstein's defense said the judge erred when he refused to allow evidence that could have impeached the credibility of two witnesses — Jane Doe 1 and Pascal Vicedomini, the founder of an Italian film festival in LA.
At trial, prosecutors said Vicedomini provided Jane Doe 1's hotel room number to Weinstein, who then sexually assaulted her. The defense said it was stopped from showing the jury sexually charged messages between Jane Doe 1 and Vicedomini that suggested they lied about the nature of their relationship and suggesting "it would be anathema for Mr. Vicedomini to provide his lover's room number to Harvey Weinstein."
The defense also argued it was improper for the judge to instruct the jury on a law that allows jurors to infer Weinstein was aware of his guilt. Prosecutors requested the instruction, arguing during the trial Weinstein made threats to some of his victims, including a woman identified as Jane Doe 3.
The trial in Los Angeles came more than two years after Weinstein was found guilty of similar crimes in New York City. The landmark decision came after the so-called #MeToo movement, in which powerful men were exposed for sexual misconduct, began largely around bombshell reports about the Miramax founder's behavior in The New York Times and The New Yorker in 2017.