Jody Greene officially sworn in as Columbus County Sheriff; DA files petition for removal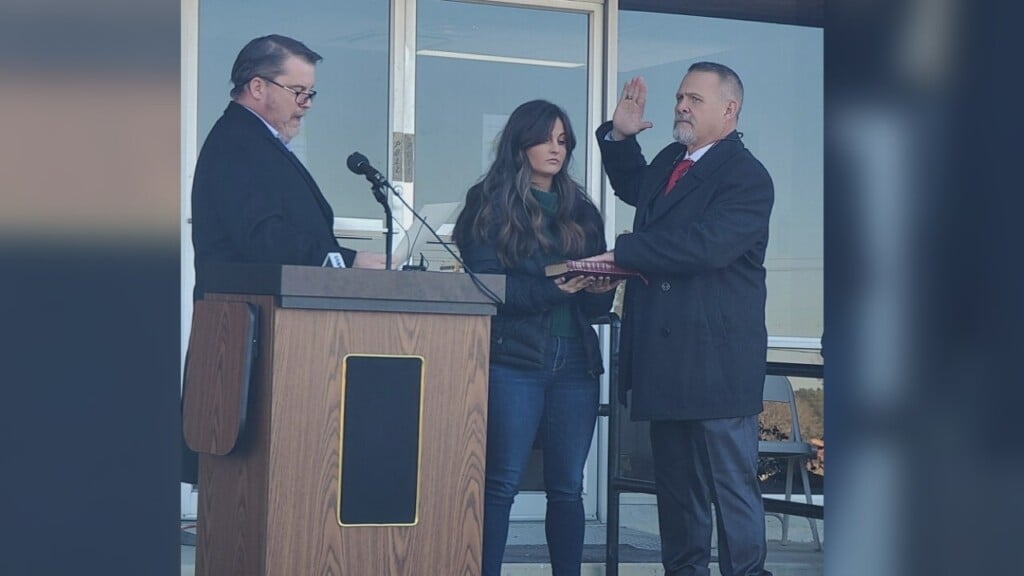 COLUMBUS COUNTY, NC (WWAY) — Jody Greene is stepping back into his role as Columbus County's top cop. He has now been sworn-in for a new term as sheriff.
Greene was sworn in Thursday morning around 8:30 in front of the old Columbus County Board of Education building, surrounded by fellow law enforcement and residents.
The swearing-in ceremony comes  two months after he resigned as sheriff during an October petition for removal hearing over alleged racist remarks he made.
Greene's name was still on the ballot for the November election, and he was elected.
He was initially scheduled to be sworn-in on December 5th, but election protesters filed two petitions against the results. Both were denied. Appeals were then filed with the state elections board, but they were also both dismissed.
"I want to promise you, just as I did in 2018. I'm going to be the sheriff for everyone. I promise to give you a professional and well trained sheriff's office, one that can face any challenges that arise. A sheriff's office that you can be proud of," said Greene.
As he was sworn in, Greene waved around his certificate of election, and reiterated his goal for his time as sheriff.
"To the people in our county who are selling the poison to our children, destroyed our families, and our communities. We're coming for you, day and night," said Greene.
The same day Greene was sworn in, District Attorney Jon David filed a second petition for Greene's removal, and permanent disqualification from the office of Columbus County Sheriff.
Greene was served the notice of hearing, petition for removal, and motion to immediately suspend from office by a State Bureau of Investigation agent.
At this time, there are multiple ongoing investigations on a state and federal level stemming from the allegations made against Greene.
Greene will continue to serve as sheriff while a decision is made on the other legal issues.
WWAY reached out to District Attorney Jon David's Office regarding the second filed petition for removal against Greene, and have not yet heard back.