Pender County woman celebrates 112th birthday

HAMPSTEAD, NC (WWAY) — For most folks, reaching 75 or 100 is considered a milestone birthday, but for Reatha Robinson, every birthday is a major milestone accomplishment.
Robinson is a resident at Woodbury Wellness Center in Hampstead and on Tuesday the staff threw her a big party in honor of her 112th birthday. She was born July 17, 1906.
According to Amy Adcock, Life Enrichment Coordinator at Woodbury Wellness Center, she's not exactly sure where Robinson was born.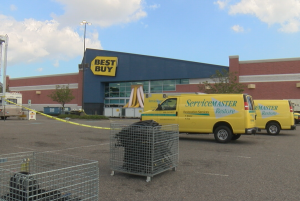 "Robinson spent most of her life in Pender County and was the mother of four children, two of which are now deceased," Adcock said.
Robinson was a homemaker and enjoyed raising chickens, pigs and goats. She also farmed peanuts, cotton and corn.
"She remembers riding a mule from Hampstead to Burgaw to sell crops," Adcock said.
When Robinson was old enough to drive, her first car was the kind you had to wind up and crank.
Two of her favorite songs are "Balling' the Jack" — a popular song from 1913 and "Ride out the Storm."
Robinson loves to be called "Queen Reatha." In addition to eating anything sweet, Adcock said she has to make special trips to the store to purchase Reatha's favorite guilty pleasure — Grizzly Wintergreen chewing tobacco.
Robinson credits her longevity to having good genes and jokingly tells nursing home staff she's too mean to die.
On a serious note, Robinson says her long life is a blessing from serving the Lord and helping others.