Two families displaced following fire at Wilmington apartment complex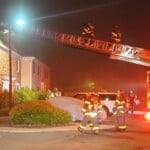 WILMINGTON, NC (WWAY) — Wilmington fire crews responded to a fire at an apartment complex early Wednesday morning.
It happened on Wickslow Road, which is the address for The Preserve at Pine Valley apartments.
According to the fire department's post on Facebook, they were able to rescue a cat from the apartment. Everyone who lived in the apartments were already out of the building.
No one got hurt.
Two families who were displaced are being assisted by the American Red Cross.
.