Ramel Carpenter
Meteorologist
Email Ramel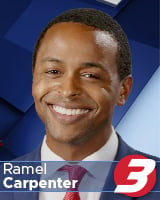 Ramel Carpenter joined the WWAY Team in June 2020. He is the morning meteorologist on
Good Morning Carolina and the Noon Meteorologist on WWAY CBS.
At WWAY he has covered everything from severe storms, tornadoes, severe drought, and Hurricane
Isaias. Before calling Wilmington home, Ramel worked in Youngstown, Ohio as the weekend
meteorologist/MMJ at WFMJ.
He is a proud graduate of UNC Charlotte where he earned his B.S. in Meteorology. His
meteorologist experience dates back to his college days when he interned at WKYT in
Lexington, Kentucky and at WSOC in Charlotte.
When Ramel is not covering the weather, he loves to spend time outdoors walking his dog
Ahsoka, watching sports, and hanging out with friends and family. Ramel is also a massive Star
Wars fan.