'Teacher of the Month' returns home to inspire next generation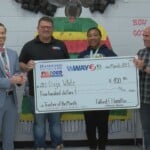 LELAND, NC (WWAY) — Daja White, a math teacher at Leland Middle School, has been named WWAY's Teacher of the Month for her outstanding work in the classroom.
White, who left a successful engineering career in Raleigh to teach in her hometown, has made a significant impact in just four years of teaching at Leland Middle School. In addition to being named WWAY's Teacher of the Month, she's also receiving recognition at the state level.
"She is in the top 25% of our county for teachers- their growth levels, and the state," said Assistant Principal Maura Cleary. "I have never worked with another educator that got the state-level award, so this is very impressive to me."
White's passion for teaching and desire to give back to her community have been evident in her work at Leland Middle School.
"Seeing the growth in them, it just lights my world up. It makes me keep going, it motivates me, I'm proud of my students, so that's why I do what I do," White said.
White's commitment to her students has earned her the respect and admiration of her colleagues.
"We are so lucky to have Ms. White here. Everyone is a better teacher, employee, because she's here," Cleary said.
Fulford Heating and Cooling and Hamilton Realty Group are proud to recognize White for her hard work and dedication, presenting her with a $400 gift card.
You can nominate a teacher here.