Marcy Cuevas
News Director
Email Marcy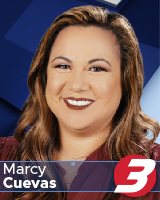 Marcy joined WWAY in September of 1999, days before Hurricane Floyd hit Southeastern NC. She was named News Director in August of 2020, after working nearly every job in the newsroom. She briefly began as an editor, before becoming a reporter. In 2004, she began anchoring the Noon newscast and eventually moved to mornings, where she anchored Good Morning Carolina for six years, from 2006-2012.
During her time on the air, she covered numerous stories, from tropical storms and hurricanes to the murder of a Boiling Spring Lakes police officer and subsequent trial of his killer, as well as the massive effort to relocate Mason Inlet. She was also working during 9/11 and was assigned to Camp Lejeune, where she reported on the security procedures that went into effect on the base that day.
Her career began while attending East Carolina University, where she worked at the college radio station WZMB and interned in the sports department at WNCT.
In 2012, she left news to stay at home with her newborn daughter and toddler twin boys. After a year, she realized she missed being a journalist and returned to WWAY part-time as a producer in the evenings.
After three years, she returned to work full-time and moved into management. She was managing editor at WWAY for four years before being promoted to News Director.
When she's not working, she enjoys spending time with her husband and three children.