Sarah Johnson
Producer
Email Sarah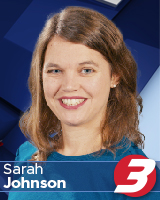 Sarah joined WWAY in August 2014 as a production assistant. In 2015, she became a news videographer and also began to gain experience as a fill-in news producer.
Sarah's favorite videography and editing assignments included shooting local sports highlights for the 5th Quarter and Full Court Press. After three years as a news videographer and fill-in producer, Sarah was promoted to full-time evening news producer in 2018. She currently produces the 7 p.m. and 11 p.m. newscasts.
Sarah first became interested in video production and news as a student at Broughton High School in Raleigh, NC.
She moved to Wilmington in 2010 to attend UNCW. Sarah became involved with the student-led news organization TealTV, becoming the group's studio director during her senior year. She was also a WWAY news intern during the 2014 spring semester.
Sarah graduated from UNCW in May 2014 with a B.A. in Communication Studies and a minor in History.
Sarah's favorite sport is Formula 1. When not at work, she enjoys watching races and keeping up to date with the latest F1 news. She also likes spending time outside, learning about history and geography, reading and volunteering.