Annick Joseph
Reporter
Email Annick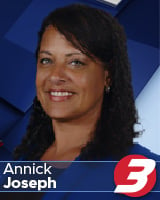 Annick Joseph has been with WWAY since March of 2022 as a multimedia journalist. A thirst for knowledge is the best way to describe Annick, who is French-Canadian and Haitian from Montreal, Canada, now a dual citizen of Canada and the United States.
She moved to the U.S. to pursue the "American Dream" and started her academic career at Central Carolina Community College in Sanford, NC, before transferring to UNC Chapel Hill to pursue a journalism degree at the newly named UNC Hussman School of Journalism and Media.
She has been in the news industry for more than 10 years, learning every role in the newsroom. Her love of reporting took her to Robeson County, where she was hired as a crime reporter for The Robesonian in Lumberton. During her time there, she covered stories that made national headlines such as Hurricane Florence, 10 firefighters charged with arson, a manhunt for four bank robbers involved in a Hollywood-style bank heist, and a high-profile trial of a man accused of killing a police officer.
Her career took her all over the country including Montana, where she worked as a television producer and multimedia journalist, before landing a reporter/anchor/producer role at Redwood News in Northern California. While in Eureka, she covered one of the most active wildfire seasons on record, including the August Complex Fire, the largest in California's history, at the time.
She then became a morning anchor in West Virginia, before landing a multimedia journalist position with WWAY.
She loves being back in North Carolina. If you see her in the community, say hello, and reach out to her with any story ideas you may have.