Sarah Jones
Producer/Editor
Email Sarah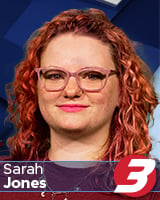 Sarah Jones has been working for WWAY since October 2022.
She is a producer on 'Good Morning Carolina,' as well as our weekend shows. She may be a newbie, but
her work certainly doesn't show it. Jones likes to bring the big stories, but also keep the show light-hearted
and personable so the anchors can shine.
Jones is a North Carolina native and graduated from the University of North Carolina at
Wilmington with a BFA in Creative Writing, as well a Certificate in Publishing.
She is a 2021 Alex Albright Nonfiction Contest finalist and has a flash fiction piece featured
in Quartz Magazine. She can be seen walking around downtown with her dog and attending
local art/music shows.