Juliana Lane
Videographer/Producer
Email Juliana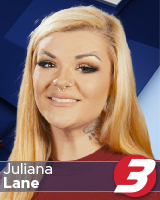 Juliana Lane started working for WWAY as a producer and videographer in November of 2021.
After graduating from East Carolina University with a BFA in Film and Video Production, Juliana
went on to write, edit and direct several media projects of her own until she found her place on
the WWAY News team.
She has a background in management, scriptwriting, cinematography and video editing and
continues to broaden these skills daily with new stories from in and around the Cape Fear
region.
A fascination with ancient Egypt and world religion has led her to many places around the world
and a never-ending need for knowledge.
Juliana loves filmmaking, art, caring for animals, and is very family oriented.